The History of the Country Smoke House
It all started back in 1988. We began to process deer in our garage in the tiny town of Almont, MI. Then, our little hobby started to take off. By 1991, a "deer shop" was constructed north of Almont on M-53, where the company still resides today. In the new facility, deer processing, along with homemade venison sausage and jerky, was offered to our customers. Today, Country Smoke House is the largest deer processor in Michigan, attributing it to the popularity of our homemade smoked sausages and jerky.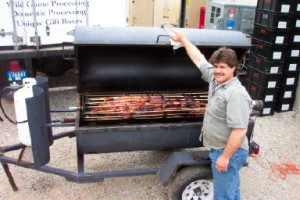 The processing business continued to grow rapidly. In 2000, we built an addition to include a retail store and hired employees year-round. The purchase of farm raised wild game meat and making our own sausage and jerky was a huge hit for the retail store. We added gourmet fresh and smoked domestic meats, a full-service meat counter, specialty foods and condiments; and the majority of products being made in Michigan. All our products were and still are as natural as you can get without having the cost of certified organic.
A couple years later in 2002, we began to specialize in signature holiday entrees, using our own blend of seasoning for our popular prime rib roast. Our smoked turkey was and still is a delicacy for any holiday. Including our Baked Honey Spiral Sliced Ham, that gives "Honey Baked Ham" some fierce competition, and ours has a much lower price tag. We also slow smoke our Premium Bacon for 18-20 hours, sliced to perfection, and is to die for.
In 2004, we began offering pick-up and on-site catering, making everything in house ourselves. Today, our kitchen has up to eight chefs working simultaneously on fresh made salads and entrees for catering and in store. They are constantly putting their culinary skills to the test to see what new creation to come up with next.
Our customers requested to purchase our catered items on a regular basis. In 2006, we opened a BBQ over an open fire pit. By 2008, a BBQ cabin was constructed, now known as the "Best BBQ in the North." It is the place to go for an extraordinary, scrumptious lunch or dinner with outdoor seating. Our specialty is Southern BBQ meats; offering items such as our famous pulled pork, beef brisket, tender baby back ribs, turkey drumsticks, and more. In 2017, we also added a full bar with 16 craft beers on tap, 16 signature hand-crafted cocktails, and a variety of wines. The Booze Barn complements our delicious BBQ, and was built right next to our BBQ Cabin.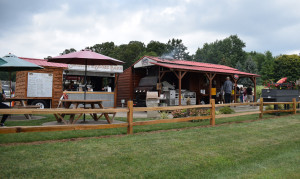 Our smoked meats quickly became a hit with everyone, such a hit they were becoming gifts! In 2008, we created a Country Smoke House "Build Your Own Gift Box." Customers can visit the store to put together a beautifully designed gift box with their friend or relative in mind. Each box can be filled with anything from homemade snak stix, salami, jerky, turkey drumsticks, smoked pheasant, and flavored bratz to jams, dips, sauces, and much more. Today, you can also "Build Your Own Gift Box" online.
By 2010, our three children all started working full-time alongside of us, making Country Smoke House our family business. Together, our family continues to grow the business and start new ventures. They developed an online e-commerce website to sell to our clients who are not able to come in stores as much as they would like to. Our products can be ordered online and shipped right to your doorstep or be sent as a gift to a loved one. We also handle corporate gift boxes and shipping.
Today, Country Smoke House still continues to grow and has become a Michigan Destination! Tourists from around the world stop by at our sight with the giant 20 foot tall steer, smoking BBQ cabin, and rustic log cabin store. We plan to expand again in 2017 to construct a new manufacturing plant for the much needed space in every department, and to keep up with customer demands. We pride ourselves in fresh quality meat selections, creative homemade recipes, and personal friendly service. We credit our growth and success to our loyal and curious customers, and the devotion of our outstanding employees, whom believe in our products and the evolution of Country Smoke House. We truly cannot thank you all enough for being a part of our dream and helping it become a reality. We vow to do our best in producing quality homemade products for you. Thank you for reading our story, the best compliment we can receive is you spreading the word about Country Smoke House. From the bottom of our hearts, we thank you!